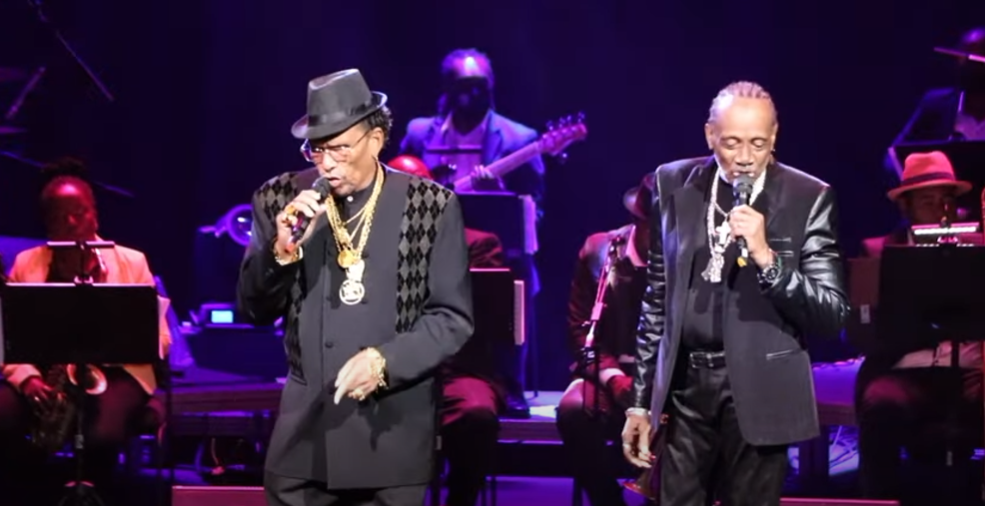 REVIEW: 100 YEARS OF THE CALYPSO TENT, VIRTUAL CONCERT
CALYPSO HISTORY
LIVE CONCERT + REVIEW
February 13, 2021 | 7:00 pm
Queen's Hall, Port of Spain (Trinidad)
Length: 2:20 hours
I stumbled over an incredible piece of history, that I would like to share with you today together with my review of the concert performances and settings. It is a virtual concert, well-recorded and put together, recorded at Queens Hall in Port of Spain. The event celebrates the history of calypso and the first commercial calypso tent in Trinidad and Tobago, which opened its doors in 1921 initiated by Chieftain Douglas.
In the article about calypso music of the virtual music archive TT Music Library, you can read in detail, why these tents are important for the music genre to this day.
You can watch the complete concert here: 
The concert is a collaboration between the Ministry of Tourism Culture & the Arts and the Trinbago Unified Calypsonians Oganization (TUCO). The Minister of Tourism even attended the show.
It took place in the middle of COVID-19, so a few musicians are not good to see because they had to hide their faces behind masks, unfortunately. The event was backed by Michelle Henry and The Kaiso Kaiso Core Band. The band accompanies the singers with drums, bass guitar, acoustic guitar, and brass instruments, a classic formation for calypso tents since the 1990s. Following the style of calypso tents of the past, every singer has the chance to perform one song or eventually two songs only. It is literally a talent show.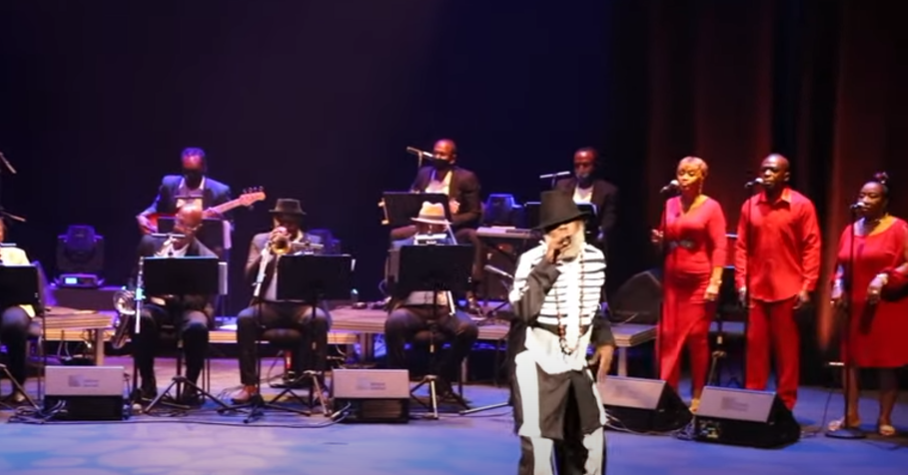 The show begins with a dance by Nadia Byron in a traditional dance dress. I am not too sure, which dance it was, but It could have been a pique or bellé dance. Feel free to comment below, if you know it correctly. Brian London introduces after with a so-called extempo, which is comparable to a freestyle, re-telling the history of the calypso tent.
Ras Commanda performed a cover song by the calypsonian Mighty Power, named "Culture", which was first published in 1966. I was fascinated by Banjela, who started to sing professionally by the age of 15, he writes and composes himself. Brother Mudadda performs the calypso "pandemic", which deals with the virus and its consequences for society and embraces the culture of Trinidad and Tobago as the "Mecca" of steelpan and calypso. 
My first goosebumps came up while Marcus Baptiste performed "Pan in a Minor" by Lord Kitchener, a song that truly goes under the skin. I am in love with steel pan covers for a long while, and this one was fantastic! I hope, you enjoyed it too.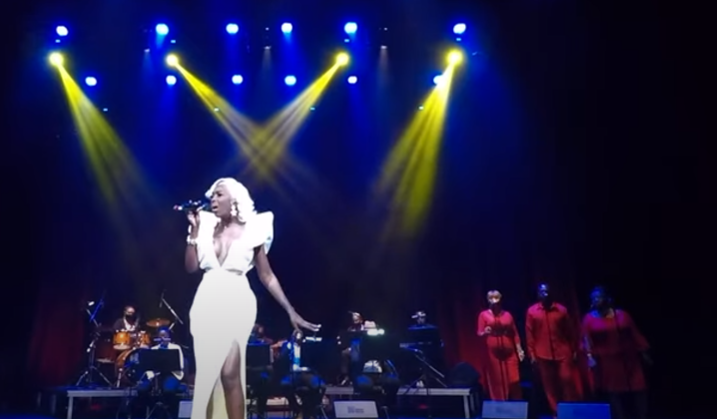 Karene Ashe presented her "Winners never Quit", an encouraging song and very well performed. She won countless awards in the last few years, and her father Errol Ashe was already a big name in Trinidad and Tobago. I must say, I love her looks. An incredible dress she is wearing, matching her platin blonde wig. Her powerful vocals combined with her stage persona match perfectly with the band. She performs "Voices from the Ghetto", a cover song by Singing Sandra, her mentor. There was this small, very emotional second when she announced her next song to sing. Singing Sandra died just a few days before the event (on the 28. of January 2021). She left a legacy of music recordings, including this one, lyrical, deep and powerful. She was regarded as the "Mother of the Calypso Fraternity", according to Trinidad and Tobago Newsday.
Maria Bhola performed her homage "Yuh too Petty" to Nikki Minaj's boyfriend (the situation is explained by the presenter), her style and her dress reminded me a lot of Nikki. I wonder if this was a coincidence.
The idea of being "Analog in a Digital World" was the topic of Devon Seal. his performance of "The Spirit of Carnival" gave me a good feeling for the upcoming Carnival season. He won the calypso monarch title with the song in 2016. As the son of the legendary calypsonian, The Mighty Shadow, Sharlan Bailey definitely got a lot of the talent of his father. On top, he resembles him so much, just the long dreadlocks make the difference. He performed "Hysteria", it reminded me a lot of his father's style, too.
That calypsoes can be controversial is beautifully to see in the performance of "cat" by Natasha Nurse, also known as Sexy Suzzie. If you understand the lyrics, you will understand the double meaning of it, something very common in calypso. In comparison, her outfit did not impress me too much, as well as her "flirting" with the presenter of the event, Damian Melville. That wasn't that sexy, sorry.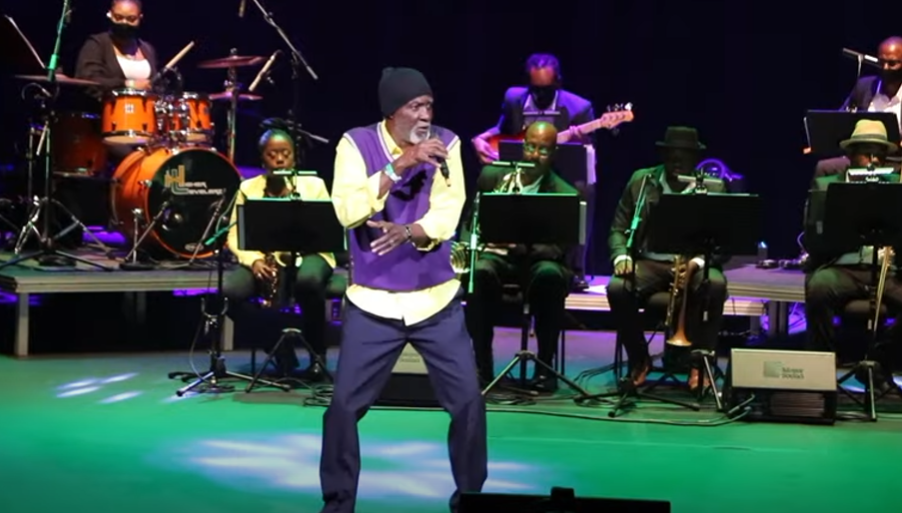 Versatile's power was great in his "Call meh Name". But he knows what he does, he is in the calypso business since the 1970s. I appreciated his contribution a lot.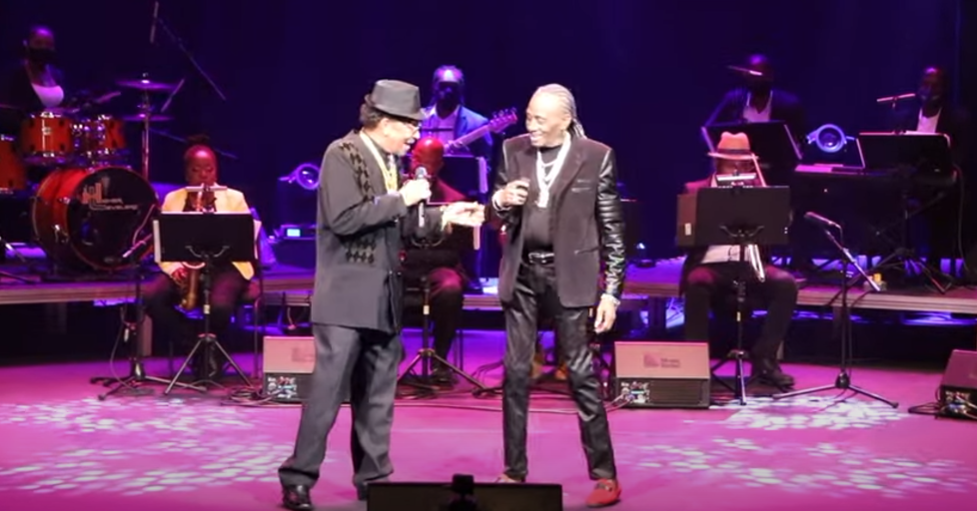 My most favorite performance starts at about 1 hour and 35 minutes, while Sugar Aloes hits the stage with his song "I love being me". The song sings about the comparison with another artist. And in the middle of the performance "Baron" truly joins him. Every time I am getting goosebumps when I see it. This moment was priceless, their little duet also. I love the song, and both of them, for who they are. as performers and their record releases. What is your opinion about it? Feel free to it comment on this article. Baron's "Soca Man" was a true classic, released in 1990. Baron made hit records in soca, calypso, parang, and even gospel. 
Terry Lyons, one of the daughters of soca superstar Super Blue, performed "Calypso". Somehow she resembled a mix of an afro queen and somebody very stylish visiting the Octoberfest in Germany. For Real. Her voice has soul, as same as her sister Fayann Lyons, a soca singer and also the wife of soca superstar Bunji Garlin. Both usually perform together. The sisters don't collaborate so much. Their father will perform later in this show.
I didn't really understand the choice of Allrounder's "Garlic Sauce". To put the garlic sauce on "she burger", I believe to understand the meaning, but let us keep it child-friendly.
Instrumentalist André Donawa showcases the power of the violin with his cover version of "Backyard Jam", originally by Farmer Nappy and a super hit during the pandemic in Trinidad and Tobago. The violinist is also known as Donadoni Music on YouTube. His versions are very recommendable.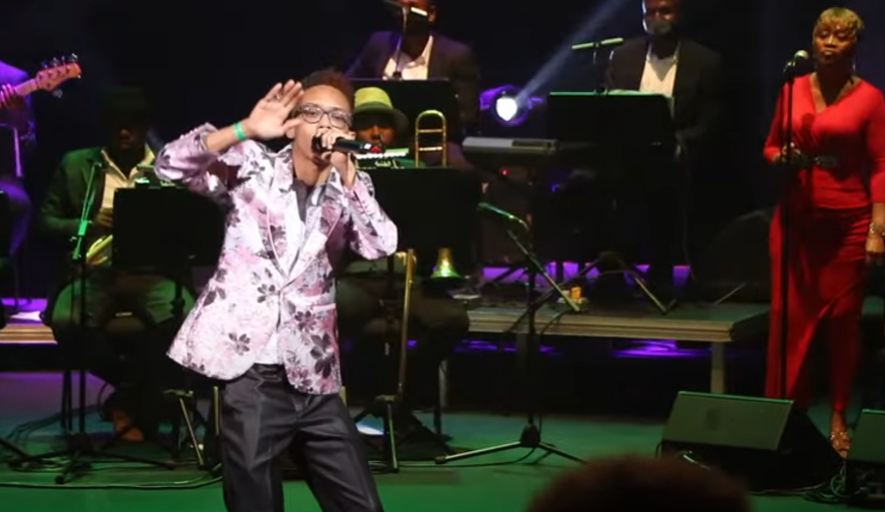 Aaron Duncan performed next with his "Back to Basics" anthem of the next generation. At the age of 3, he began singing in his sister's band, as a backup vocalist. In this performance, he is about 19 years old. What a young talent, often considered the "next Machel Montano", who also started very young.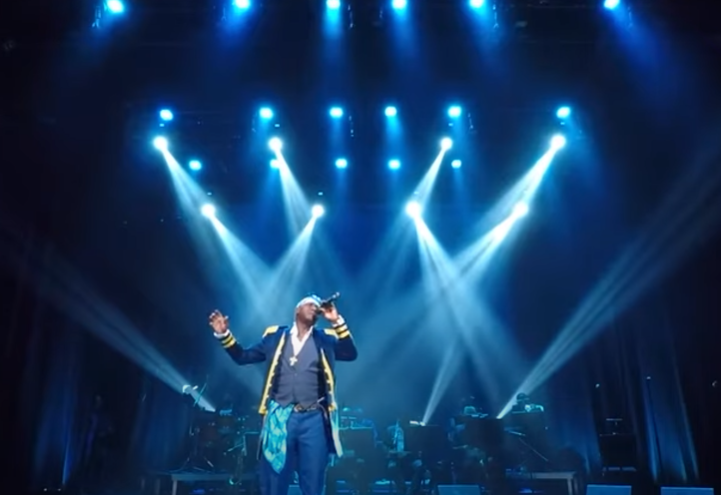 As Super Blue hit the stage, the stage light turned blue. Throughout his career, he kept the same blue looks and it literally became a part of him. He performed "Hello", from his hit record "Bacchanal Time", released in 1993. His second song and the last song of the night is "Swing". Sadly, he performed both tracks with playback tracks, band, and backing singers having finished for today. From time to time he wasn't in sync, but he was doing his thing.
All in all, a massive showcase of talent with true music Icons of Trinidad and Tobago. Feel free to comment below, if you enjoyed it too. I would highly appreciate it!
Performances in order by:
Nadia Byron (Dance)
Brian London
Ras Kommanda
Banjela
Brother Mudadda
Marcus Baptiste (Steel Pan)
Karene Ashe
Maria Bhola
Devon Seal
Sharlan Bailey
Natasha Nurse (Sexy Suzzie)
Sugar Aloes
Baron
Terry Lyons
Allrounder
André Donawa (Violin)
Aaron Duncan
Super Blue
Hosts:
Meagan Sylvester (TUCO, education and research officer)
Omari Ashby
Damian Melville
TT MUSIC LIBRARY - VIRTUAL MUSIC ARCHIVE | JUKEBOX TT
Follow me on social media & join an event to come and see me in action.
SHARE WITH FRIENDS & FAMILY
LEAVE A COMMENT BELOW